Newsletter from Vice President of the Guatemala Board

All of us at Niños del Lago (Guatemalan staff and Board Members from our Guatemalan, US, and Dutch Boards) would like to take this opportunity to thank all our supporters and donors over the years.
As Vice President of the Guatemalan Board, I would also like to wish you all the very best for your health in these difficult times that we find ourselves in.
COVID-19 has stormed across the world leaving no one untouched in some way. Here in Guatemala, although the government was very quick to shut down the country, the knock-on economic effects are now being felt hardest by the country's most vulnerable people. Before bringing you up to date with Niños del Lago's current work in response to the CORONA VIRUS, we would also like to update you about various changes regarding our Guatemalan staff. 
GUATEMALAN HOME TEAM
It was with great sadness and a heavy heart that our Founder and Executive Director since the bird on NdL, Arlaine Cervantes, announced her retirement in December 2019. It was not an easy decision, but she decided it was time for her to concentrate on personal things.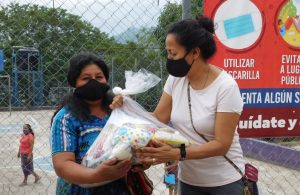 As a result, the Guatemalan Board appointed a new Executive Director and has great pleasure in introducing you to Claudia Rincón Cano. We are very excited about her joining the team and bringing with her a variety of work experiences that will help move NdL forward. This includes working with children and families and other NGOs in México, the US, and Guatemala, as well as volunteering at our Journey to the Forest Camp for the past four years. She, therefore, has hands-on experience of exactly how Niños del Lago's Camps work. We also have to a new Administrative & Assistant Director, Zabdi Pocop Can, to support Cladia and take over from Armabdi Martínez, who left us in November.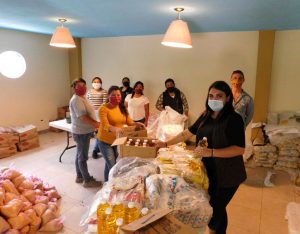 This new team, along with the support of NdL's three Boards, is excited about the future as the organization begins a new phase in its development now that almost all the construction work is completed.
Just as these plans were about to be laid out, the world was turned upside-down by the Corona Virus. This has resulted in NdL having to change its plans for 2020 and sadly cancel the Camps for this year.
However, this then meant that NdL had some funds available to respond directly to some of the humanitarian issues caused by COVID-19 in Guatemala. The Food Aid program was created in order to be able to help communities close to our Camp with Food-Aid Packages since many families and households are going hungry.
FOOD-AID PROGRAM: COVID-19 RESPONSE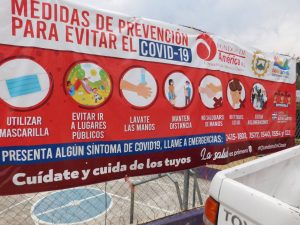 The Guatemalan government was very quick to close down the country with no public transportation and many markets closed along with businesses being shut.
The knock-on effect of this has left many families with no, or little, work and no way of getting to markets and stores to purchase food and provisions, as well as try and sell them.
This means they are going hungry. There are families with as many as 10 adults that have all lost their jobs. The need is great and growing as the shutdown continues.
NdL realized that due to COVID-19 we could not go ahead with that planned camps and we wished to do something to help our neighbors and local communities. The decision was taken to use the funds we had to supply basic food provisions to as many families as we could through a FOOD-AID PROGRAM.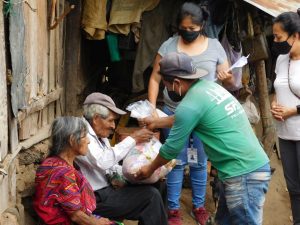 With the funds we had, we managed to pack up 600 Food-Aid.
Packages, with the plan to distribute them to 600 families from April to June (approx. 200 each month). We are in the process of distributing the third batch of 200 in rural 
areas around San Andrés Semetabaj and other areas. The second distribution was in Pana with the help of the local Bomberos /Fire/Emergency Dept.)
We are now looking to be able to purchase and package another 5600 Food-Aid Packages to distribute during July, August and September. However, we need to raise enough funds to do this.
This is where you come in! Can you help us? We very much hope you may be able to contribute – no amount is too small.
$12 provides 1 Food-Aid Package.
$120 provides 10 Food-Aid Packages.
$2,400 provides one month of 200 Packages
TO REACH OUR TARGET FOR PHASE II
ANOTHER 600 FOOD-AID PACKAGES
WE NEED $7,200
We totally understand that everyone finds themselves in a precarious position right now, but any help is very much appreciated!
Donations can be made either via Paypal, or if you are in Guatemala via a bank deposit to NdL's bank account with BANCO INDUSTRIAL. 
requesting our Bank Details
For further information on the
FOOD-AID PROGRAM
WEBSITE

Please bear with us as it will take time for us to update our website. We plan to relaunch a new website which will be available in 3 languages: English, Spanish, & Dutch, towards the end of the year.
If you have any questions about any of the above or anything at all regarding Niños del Lago, please email us. We know how busy you all are, so thank you very much for taking the time to read this Newsletter.
Wishing you and your families the very best of health at this time.
Best wishes
Francesca Wade
Vice President


Guatemalan Board of Directors