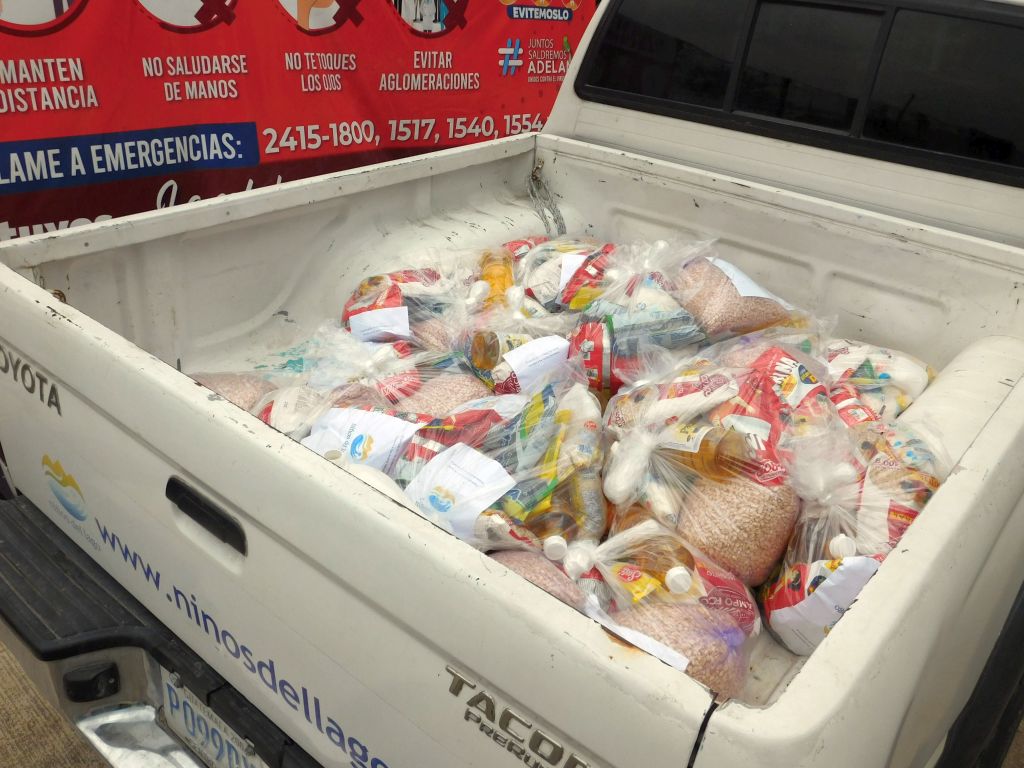 NIÑOS DEL LAGO'S RESPONSE TO COVID-19
By Francesca Wade
(Vice President, Guatemalan Board of Directors)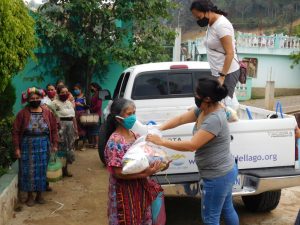 Pulling into the small aldea (village/hamlet) of Canoas Altas, alongside the school, I could see a cluster of women sitting, waiting, with their masks on. I waved as I got out of the car and adjusted my own mask; in Guatemala it is now obligatory to wear a mask outside of your own home. The air was fresh and cool, we were at 2,350m or 7,700ft. I was greeted with "Buenas Dias, como esta?" (Good Day, how are you?); one thing you can always count on in the Mayan Highlands are a smile and a cheerful greeting – Canoas Altas was no different.
I had joined the Niños del Lago (NdL) team of Claudia Rincon (Exe. Dir.) and Zabdi Can (Director's Assistant), along with a local social worker, Ruth Noemi Xingo from San Andres Semetabaj. They were on the fourth and last distribution day of Food-Aid Packages to families close to the NdL Camp by San Andres Semetabaj in the first week of May. For four long days the team had been driving around handing these out to carefully selected households and families. These were a small way to help the most vulnerable Guatemalan children and their families through a few weeks during this difficult time. The vast majority of poor Guatemalans live hand to mouth, they do a day's work that pays for the next day's food. Now there is no work, so there is no money to buy food. And even getting to the food is tricky, as there is now no public transport either. People were starting to get desperate.
As the world started to shut down mid-March, so too did Guatemala. In fact, the country was one of the first to close its borders and stop all public transport, along with introducing a curfew from 4pm to 4am – this is now currently 5pm – 5am. There is also no interdepartmental movement of traffic except food, essentials, and medical emergencies.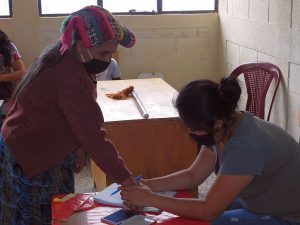 On the advice of the Executive Director, the Guatemalan Board supported the decision to cancel the annual Journey to the Forest Camp programmed for Oct/Nov, as with so much uncertainty it would be impossible to proceed with this. It soon became very evident that urgent help was needed for vulnerable families and households all over the country; a humanitarian crisis was underway, right on our doorstep.
It was calculated that with the donation amount that NdL had available in March a simple food package could be put together and distributed to 600 families, 200 a month for the months of April, May, and June. From this developed the plan for a Food-Aid Program, to provide packages of nine household items: corn, flour, sugar, rice, pasta, oil, Incaparina (highly nutritional powdered drink), salt, and black beans. No easy task though. Food prices were increasing daily, Panajachel did not have many of the products chosen for the packages available in large quantities. The team had to look further afield in Sololá.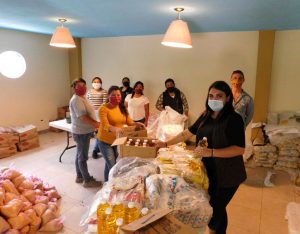 After much running around, the products where found, enough to make up 600 Food-Aid Packages. Once this was collected together, then a team was needed to make up the packages. A team of eight wonderful volunteers spent two long days packing an amazing 600 Food-Aid Packages.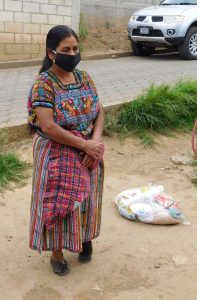 Meanwhile, contact was being made with the Municipality (local government) of San Andres Semetabaj to ask for help to identify the areas in need and then contact their COCODES (local groups of neighbors), who in turn would identify the 10-20 most in-need families and households in their area. I say households, as it was soon discovered that many of those in need were older folk living on their own with no family nearby to help them out, and often looking after young grandchildren as well.
In the first week of May the team managed to reach 19 communities with 203 Food-Aid Packages. I was lucky enough to be part of the last day of distribution to the aldea of Canoas Altas and a new community called Caserío San Luis, nestled up above the small aldea of Patanatic, which was added at the last minute.
People in these communities had been selected via an interview asking basic questions and investigating those that were single mothers, older people with no children to rely on and/or with young grandchildren to care for, along with families with handicapped members, and of course, those that had not received any other kind of humanitarian aid so far.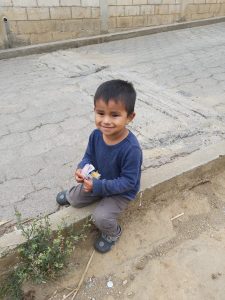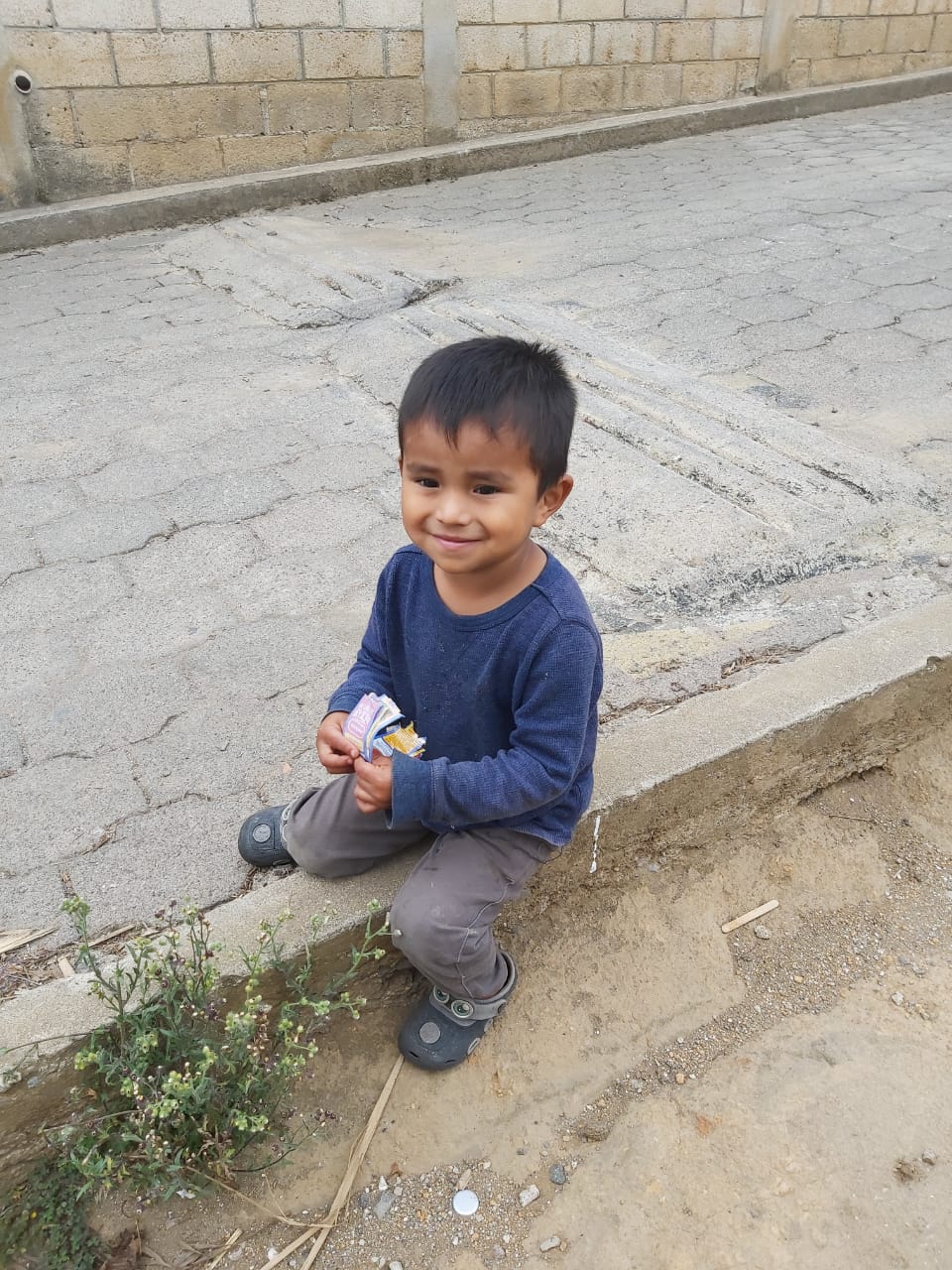 The selected families were asked to come to the local school to sign their name (or give a thumb print, as many Mayans, especially women, are illiterate and cannot sign their own names – this is common through the poorer areas of the country). This was the group of women who welcomed me when I first arrived in Canoa Altas. They were registered and then in an orderly line, adhering to social distancing suggestions, waited to receive their Food-Aid Package from Claudia and Zabdi.
Although it was not possible to see anyone's faces, the eye's said it all, some even with tears in them as they thanked us and asked God to bless us. Just as we finished, a young woman came up to ask if she too could be helped; she was not on the list. She explained she had two small children, one with down syndrome. With luck, there was an extra Food-Aid Package that was able to be given to her!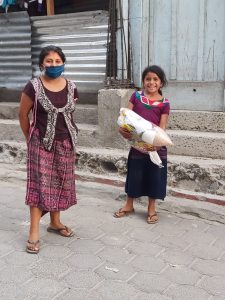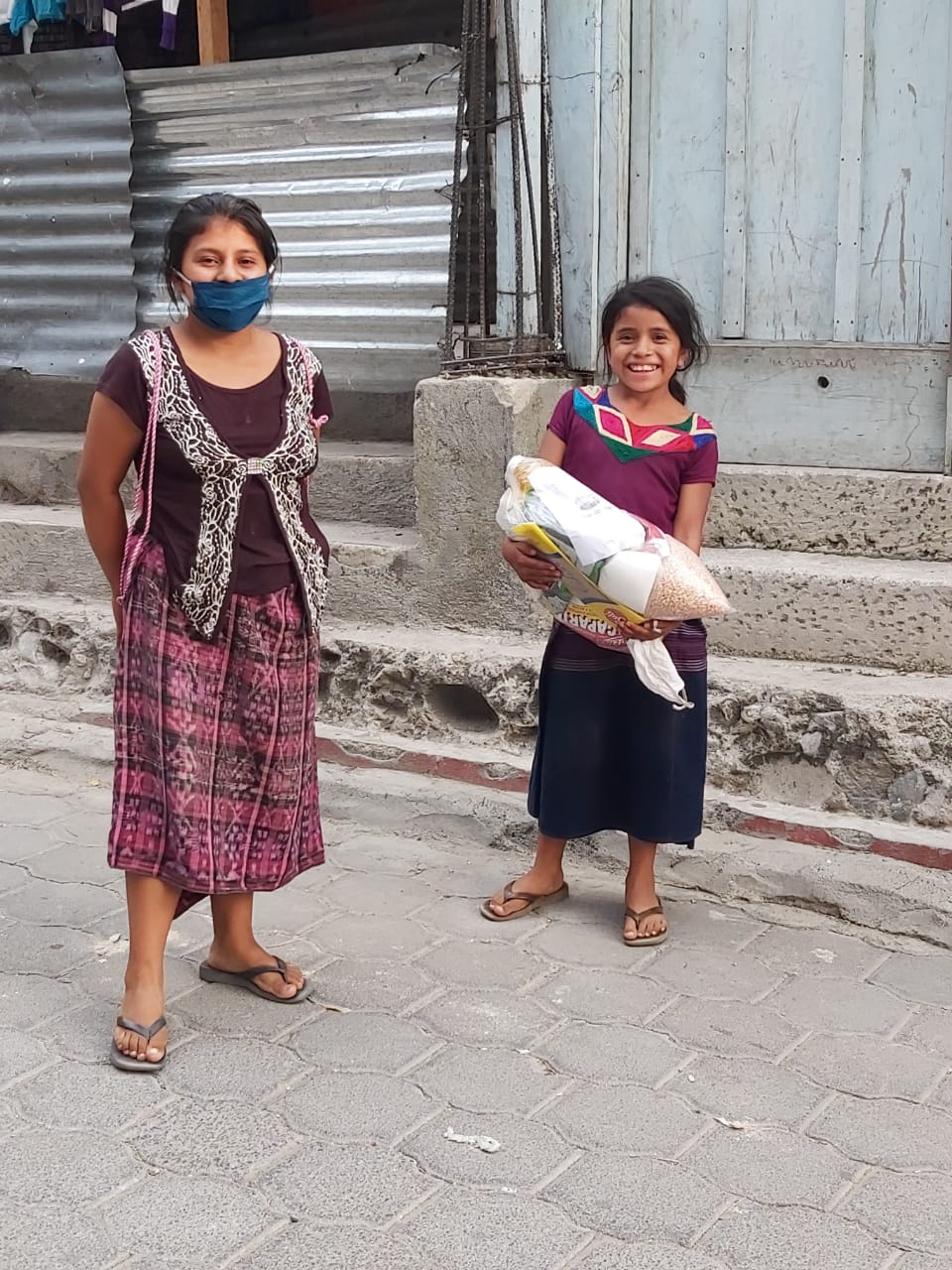 There were other stories of those in need, who were met along the way during the distributions: These two sisters were out carrying wood and were offered a ride in the back of the Niños del Lago pick up. They never stopped smiling and further investigation revealed that their mother was on her own and they were helping her collect wood to sell, as well as for their own use. Thank goodness for the extra packages – the two sisters also got one!
The last stop was up a very steep cement road to another aldea high up above Patanatic, Caserío San Luis. Last minute, the night before, the NdL team had been contacted to ask if there was any chance if this community could be added to the list. Thankfully, it could! 20 packages were handed out here. For the last one however, we had to drive further on up into the mountains, to an elderly couple in their 80s, who were unable to walk all the way to the school. They lived in a very simple, but typical dwelling of wood and lamina, along with a half dozen puppies, dogs, and chickens. The only running water was a faucet outside. Only the man spoke Spanish, the woman only spoke the local Mayan language, Kakchiquel.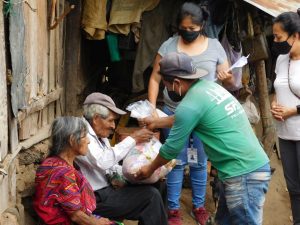 The Guatemalan government has promised Q1,000 to households with electricity below Q100 a month. Sadly, those who really need it, will probably never get it. This elderly couple is a typical example of a household which does not have electricity. Another requirement is to use your phone to sign up on-line, receive a number, and then go to the bank to collect the money. Something that is impossible for this couple, as they may not even have an old-style phone, let alone a smart phone!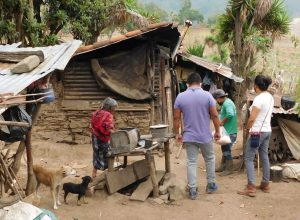 These are the Guatemalans that Niños del Lago is taking strides to find and then be able to deliver Food-Aid Packages too. I was humbled by just how much the NdL team along with help from the San Andres Semetabaj Muni, and the local Cocodes, had managed to achieve it less than a month!
NdL has another 400 Food-Aid Packages to distribute during the rest of May and June. They are looking for donations now to be able to continue another phase of 600 Food-Aid Packages for July, Aug & Sept, and if possible, to continue with a third phase through to the end of the year. The food scarcity for vulnerable Guatemalans will sadly continue, especially as here the number of cases and deaths rises, and people are out of work for longer. NdL is hoping to help alleviate some of this desperation.
Please help us to help them!
Every dollar counts!
Click here to donate